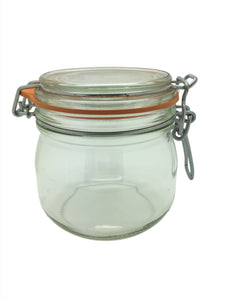 Le Parfait Clip Top Preserving Jar | 500ml
£3553

£35.53

Save £6.27
VAT Included | Delivery Charge Calculated at Checkout | Collection Available
---
---
SEPTEMBER SPECIAL OFFER PRICE - REDUCED BY 15%
500ml Le Parfait clip top preserving jar.
This hinged jar is ideal for traditionally preserving soft fruits, vegetables, jams, honey and for general dry storage of ingredients.
Height approx 100mm.
Weight per jar approx 480g.
Excellent jars - we bought 0.5, 0.75 amd 1.0 litre sizes. We had previously bought Kilner clip-top equivalents for bottling, but they were absolutely useless, failing to seal after several attempts. These are much more robust, with thicker metal bands and a better closure mechanism. Highly recommended.