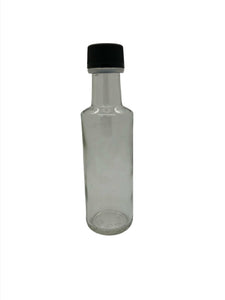 Dorica Bottle | 100ml | 24mm cap
£106

£1.06
VAT Included | Delivery Charge Calculated at Checkout | Collection Available
---
---
100ml Dorica Bottle with 24mm R3 black cap.
Available with a standard cap or tamper evident.
Great for oils, sauces, cordials and spirits.
Approximate dimensions 140mm height x 40mm width.
Weight per bottle approx 105g.
Unable to comment on the bottles in a practical manner as they're still sat in the box whilst I wait for my fermentation to finish (chilli hot sauce) however, the price and delivery was top notch and the quality upon inspection seems great. Would recommend this company to anyone interested in buying glass bottles.